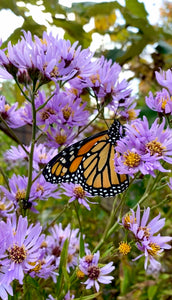 Aster (New England)
New England Aster (Aster novae-angliae)
One of the most beautiful Aster varieties with light purple flowers that brighten up the late summer garden. This perennial flower will provide wonderful nectar to pollinators and in our garden it's a favorite of monarch butterflies during their southern migration. New England Asters are a tall variety, often growing up to 6ft. in height and they generally bloom around the beginning of September once they are established in the garden. 
Origin:  We saved the parent seed of our New England Asters from wild plants many years ago that were growing along a trail up Watch Knob Mountain in Swannanoa, NC. 
(Approximately 100 seeds per packet) 
Planting Instructions: Sow New England Aster seeds directly in the garden in late fall in a sunny and permanent location and water once. For spring planting, seeds should be cold-stratified by placing the seeds on a damp paper towel in a plastic bag in the refrigerator for about 30 days before sowing. Cold-stratified seeds can also be started in containers to be transplanted later in the garden.