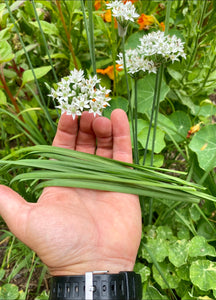 Garlic Chives (Nira)
Garlic Chives (Allium tuberosum)
Garlic chives are a perennial plant so they come back year after year. Used widely in Asian cuisine and also known as "Nira", garlic chive greens have a wonderful flavor of garlic with hints of onion and honey. 
The delicate white blooms in the second year are a favorite source of nectar for pollinators and we like to use the greens in stir-fries and in the filling for gyoza dumplings.
Origin: We collected the parent seed many years ago on a trip to Hong Kong at a community garden near the French International School of Hong Kong. The seeds were originally brought to Hong Kong from Japan by a Japanese student who attended school there. 
(Approximately 50 seeds per packet)
Planting Instructions: Sow seeds in a permanent location by scattering in a sunny location in early spring and lightly cover with soil.
Recipe Ideas:
Garlic chives have a wonderful flavor that is similar to chives but with a stronger flavor and a garlic taste. We use nira in many ways like adding the chopped greens to stir-fries or using the greens as a pizza topping. One of our favorite ways to use nira is in gyoza dumplings. 
Goya are Japanese dumplings that can have a variety of fillings and they are usually fried on the bottom and then steamed to finish. They are also commonly called "pot-stickers". You can find a recipe to make the dumpling dough though it is quite time-consuming and you can usually find the frozen circular "skins" in the freezer section at a big grocer or Asian food store. 
Our family loves pork gyoza so we start with ground pork and we add lots of chopped nira and chopped ginger to the meat. Then we fill the dumpling skins with the meat mixture and are sure to seal them well. To cook gyoza, we put the dumplings in a pan and brown the bottom before adding water to the pan and covering them quickly to steam. The result are delicious dumplings that are crisp on the bottom and have a fantastic garlic chive taste. We make a dipping sauce for our gyoza that is a mixture of soy sauce, rice vinegar and La-Yu Chili oil. Enjoy!