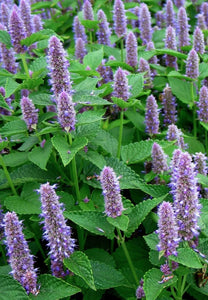 Hyssop (Anise)
Anise Hyssop (Agastache foeniculum)
A flowering herb that has been used for centuries in herbal remedies. The lavender colored  flowers attract many pollinators to the garden and the leaves have a wonderful herbal anise-like fragrance. 
The plant is categorized as a "short-lived perennial" in zones 4-9 and the plants generally live for about 3-4 years. However, Anise Hyssop self-seeds readily so you'll likely enjoy it in the garden for many years.
Origin: We collected the parent seed of our Anise Hyssop in Mamas' parents garden in France when they lived in Le Broc, a small village in the hills north of Nice. 
(Approximately 50 seeds per packet)
Planting Instructions: Anise Hyssop germination benefits from a period of cold (Cold Stratification). Either sow seeds in the garden in fall or in the late winter about 6-8 weeks BEFORE your last frost. Plant in full sun to part shade and simply press the seeds into the soil because they need light to germinate. Anise Hyssop seeds can also be started in containers, just be sure they have a period of cold and moist conditions.